Sabbath School
Children's Sabbath School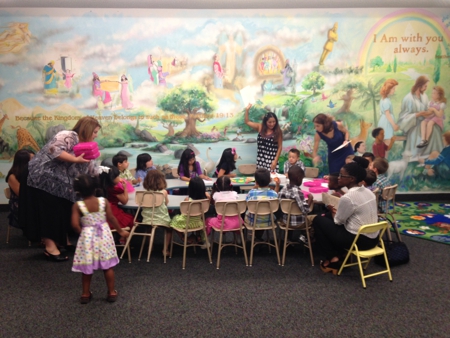 The Corona SDA Church Children's Ministries Department consists of an awesome team of men and women who are spiritually dedicated to Jesus Christ and who are active in growing the children of the Corona SDA Church into a loving relationship with their Creator and Friend, Jesus, through lesson study, music, and bible based activities approved the SDA Southeastern California Conference.
Sabbath School runs from 9:30 a.m. - 10:40 a.m. and consists of 4 divisions, Cradle/Tots, Kindergarten, Primary, and Juniors.
Cradle/Tots: Ages 0 thru 4
Leaders: Cindy Tkalec, Daniel Martinez, Diana Alvarez, and Lori Marsh-Sergienko.
Kindergarten: Ages 5 thru 2nd Grade
Leaders: Laurie Werk, Diane Brown, Christine Sinaga, Lauren Pfenninger, Kylie Teele, Katie Pershing, Autumn Zurek.
Primary: 3rd thru 4th Grades
Leaders: Susan Anderson, Paula McIntyre, Michael Webley, Mayber Velazquez.
Juniors: 5th thru 6th Grades
Leaders: Heide Salagan, Bruce Edminster, Kelly Pick
We use the Gracelink Sabbath School curriculum for all of our children's classes.
To access the Sabbath School Lesson online, click on the following link: